(Jan 14, 2016) DURING the last three years, the Clustered Regularly Interspaced Short Palindromic Repeats (CRISPR)-associated protein 9 system (CRISPR/Cas9) has rapidly become the most promising and powerful genome editing tool. With great efforts and contribution from numerous scientists around the world, the CRISPR/Cas9 system has now been developed and tested in almost all scenarios of genome and epigenome editing applications, such loss-of-function by targeted gene disruption, gain-of-function by targeted gene insertion, targeted gene repression or activation, epigenome editing etc.
Supported by the Danish Research Council for Independent Research and the Lundbeck Foundation, the DREAM team, lead by Associate Professor Yonglun Luo, is endeavoring to establish, improve and apply the CRISPR/Cas9 system for targeted gene editing and activation for studying the reprogramming and differentiation of human induced pluripotent stem cells. Furthermore, the DREAM team is also developing methods that can targeted modified the DNA methylome, which give great potential for studying stem cell reprogramming, differentiation and cancer therapy.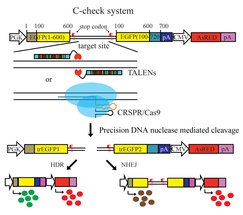 One challenge in the application of the CRISPR/Cas9 system is the validation and selection of functionally active small guide RNAs (sgRNA), which can efficiently direct the Cas9 or catalytically inactive Cas9 (dCas9) to the correct genomic loci. This week, the DREAM team published their dual-fluorescent system, named C-Check, in the scientific journal Cellular and Molecular Life Sciences [1]. The C-Check system contains two truncated and inactive green fluorescent genes (GFP), which contains homology sequences of 500 base pairs. Between the two truncated GFP genes, the C-Check vector contains a Golden-gate cloning site, where any target site can be inserted. Upon CRISPR/Cas9-mediated cleavage in the target site in the C-Check vector, the truncated GFP genes can be repaired by the single-strand annealing mechanism in the cells, which leads to the expression of a functional GFP protein (Illustrative Figure). With this system, the group demonstrated that sgRNAs, which are validated by the C-Check vectors, are also functional active at the endogenous genomic loci.
For more information about the C-Check vector, please read the related publication:
[1] Zhou et al. 2016. Enhanced genome editing in mammalian cells with a modified dual-fluorescent surrogate system. Cell Mol Life Sci. 2016 Jan 11. [Epub ahead of print]. PMID: 26755436